Thomas Gilbert & Rosina Hamer

One of the many "Gilbert" mysteries is the origins of Grandpa Gilbert's father, Thomas Harmer Gilbert. About all my mother knew was that 
1. he was born in England, and 
2. he was from the area known as Lincolnshire.
Not much to go on when you're doing genealogy research
Of course, I had many questions, including: *What as this father and mother's name? What was his mother's maiden name? Where were they from? What year did Thomas immigrate from England to the United States? - Did his parents also migrate, or did they stay in England. - Did he have any siblings? - If so, were there older, any younger? - Male? - Female? - Did they immigrate to the US with him?*
Really, it's a tough one to crack, with very little to go on.
Well, after several years of trying, I've finally been able to put some pieces together on the life of Thomas Harmer Gilbert, our elusive Great-Grandfather.
For starters, Thomas was from Woodchester, Gloucestershire, England, not Lincolnshire. Guess the family mythology was a little off on that one. 
Gloucestershire is about 2 hours drive due West of London.
Once I was able to verify to location of where Thomas Harmer Gilbert was from, I was able to find his baptism record.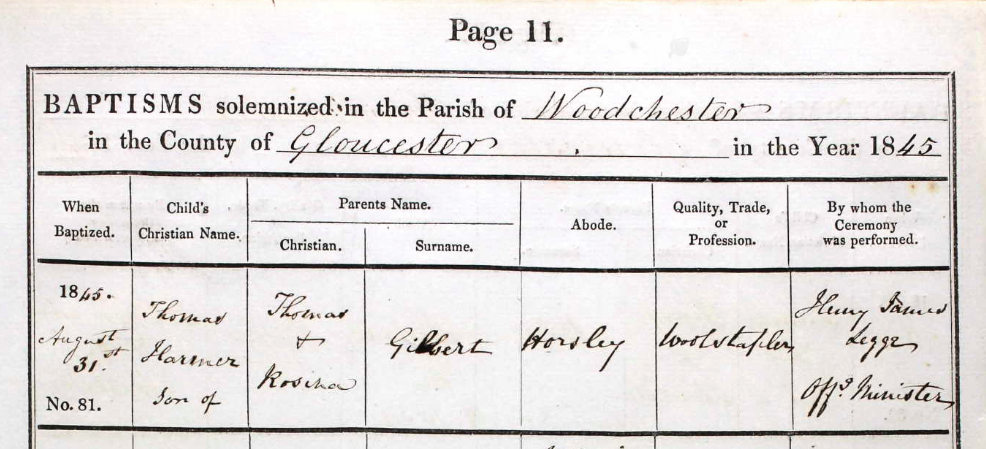 This was like the damn bursting open. I was able to verify his actual date of birth, which was July 11th, 1845 and location,  in Woodchester, Gloucestershire, England. As you can see, I was able to then found both his father's and mother's name, which, as far as I know, no one in the family knew. Once I had their names, I then found their marriage record. Thomas Gilbert married Rosina Harmer in 1843 in Rodborough, Gloucestershire.
Harmer!
So, that's where our Great-Grandfather got his middle name! 

Rosina's father's name was Thomas Harmer who was born in 1795 in Stoud, Gloucestershire and he married Maria Wilkins in 1815. They had five children, including Rosina, who was born in 1827. She had two sisters, Harriet and Ellen, and two brothers, George and Alfred.
Sadly, just two weeks before young Thomas Harmer Gilbert's first birthday, Rosina died at the young age of 19 years old. This was in July of 1846.
It should be noted that when Thomas married Rosina, he was listed as a widower in the parish record. I've not been able to find anything on his first wife. In the 1851 Census of we find Thomas Gilbert married to his third wife, Rebecca living in Kibworth Harcourt, Leicestershire.
When Thomas Harmer Gilbert was 16 years old, we find him now in America, living in Dewitt, Clinton County, Iowa, working as a farm laborer, living with his father, Thomas Gilbert and his step-mother, Rebecca. This according to the Iowa Census of 1861.
Fast forward to 1870, he was living and working as a farm laborer on the farm of Lewis and Margaret Sayre, in Welton, Clinton County, Iowa. Then, by the end of the 1871, at the age of 26, he had wooed and married the boss' daughter, Delila Jane Sayre, our great-grandmother. 
Still working on finding out their actual arrival date from England to America. At this date, I've been unable to find Thomas Gilbert's mother's name. There is much more information on Rosina's family, the Harmers. Also searching for what happened to Thomas & Rebecca Gilbert. The last record I can find, from the 1880 Federal Census, they are living in Odebolt, Iowa with Thomas working as a "land agent" at the age of 71 years and Rebecca listing her occupation as "housework" at age 72. I've not been able to find the dates of the death or where they might be buried.
Scott Leverenz 
Portland, Oregon